In this three-minute read, we look at the benefits of building strong local connections.
The UK's biggest annual get-together of neighbours – The Big Lunch – takes place this weekend and it's a great excuse to connect or reconnect with people who live in your street.
The Eden Project started The Big Lunch in 2009 to celebrate the power of communities. Since then, hundreds of Big Lunch events have taken place up and down the country.
If you've never heard of it before, don't let the name fool you. A Big Lunch event:
Doesn't have to be 'big'. A little get-together with a handful of neighbours will suffice (and make sticking to pandemic guidelines easier).
Could involve a walk in the park, afternoon tea in the front yard or a Zoom chat – lunch doesn't have to be on the menu.



Can take place whenever you want. The official date is 5/6 June but as June is the Month of Community, find a time and date that suits you.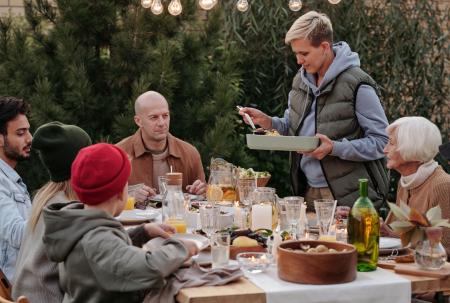 Here are eight reasons why it's nice to natter with your neighbours.
1) Combat loneliness
Sadly, 7.2% of the adult population (that's 3.7 million people) say they 'often' or 'always' feel lonely*. Taking time to talk could really make someone's day if they're struggling.


2) You could learn something
Perhaps your neighbour is an expert gardener or a pro at puppy training. Get chatting, and you might pick up some valuable tips.


3) Community safety
Build up a rapport with your neighbours, and they'll keep an eye on your home when you're not around and report on any suspicious activity.


4) Local campaigns
If there's something you'd like to fix or improve in your local area, it will help to have back-up. Having strong local connections will make it easier to drum up support and bring about positive change.


5) Improve communication
If you need to talk about tricky subject matters like loud music, a broken fence, or a party wall agreement, it's easier if you're already on speaking terms.
6) Convenience
There is, of course, that cliché about borrowing a cup of sugar, but you never know when you might need a helping hand at an awkward hour.
7) Local recommendations
Looking for a good hairdresser, reliable plumber or the lowdown on local schools? Ask a neighbour for advice.
8) Feed the cat
And even if you don't have a kitty, it's handy to have a neighbour who can take in a delivery if you're out or water the plants when you're on holiday.
For more information about The Big Lunch and event ideas, visit http://bit.ly/thebiglunch2021.
Like to talk? So do we! Get in touch with us here at Mackay Property.
*Source: Office of National Statistics.