Welcome to 2022, and we all hope you've had a happy new year!
With sales volumes in 2021 on the cusp of eclipsing 2007, it's been a busy year for home buyers and home movers in the UK.
Sales
Wrapping up
While many expected a quieter autumn in the housing market, official data reveals just a subtle change in autumn hues as winter approaches. September was the third busiest month on record for housing sales, following June 2021 and March 2016 (HMRC). As the final winds of the stamp duty holiday ended, sales are set to exceed 1.5 million by the end of the year (Zoopla). Although mortgage approvals in September were at their lowest since July 2020 (Bank of England), demand for property remains stronger than a year ago and the demand/supply imbalance that has epitomized the market in 2021 remains.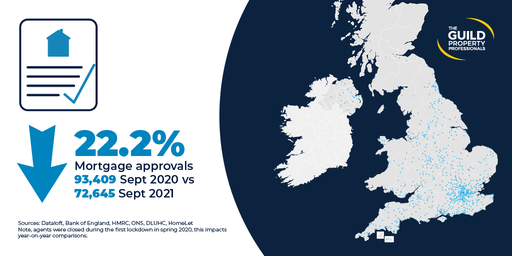 Full house
Property prices continue to rise, Rightmove reporting a 'full house' for the first time since 2007, as asking prices for properties across all regions and sectors of the market hit record highs in October. A moderation is likely throughout the final quarter, with price growth of 5.8% expected for 2022. An interest rate rise is likely over the coming weeks, and while this may act as a soft brake on the market, there is little evidence it will trigger any signifi cant price falls. Price growth of 3.2% is predicted over the course of 2022 by the Office for Budget Responsibility.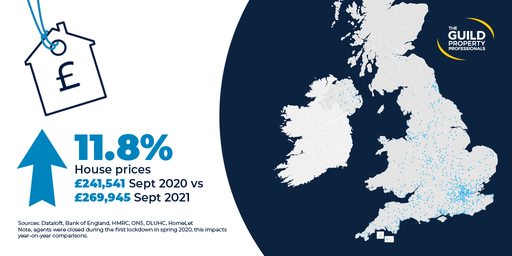 Budget boost
The Chancellor's Autumn Budget set a positive tone for the economy. The economy is expected to bounce back to its pre-pandemic level by the turn of the year. Job vacancies are at a record high and unemployment is predicted to peak at just 5.2%, significantly lower than the 11.9% originally forecast. To turn Generation Rent into Generation Buy, the government confirmed a nearly £24 billion multi-year settlement for housing. Consumer confidence is back at pre-pandemic levels, although it has taken a knock in recent weeks, household budgets squeezed thanks to food and fuel price rises. Inflation is currently 4.2% (ONS).
Lettings
Rental values rising
Taking a leaf out of the sales market, record demand and a shortage of properties have seen rental values rising at their strongest pace since the spring of 2017. Values are rising across all regions of the UK as HomeLet report the average monthly rent in the UK is now £1,059 (£888 excluding London). A welcome return of students, graduates and corporate renters are making city locations highly sought after. For the first time since 2016, rental values are predicted to rise by more than 3% in 2022.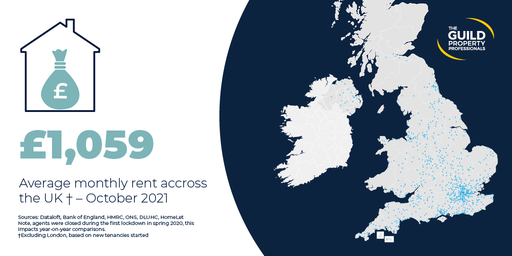 Keep an eye out for our full winter market report coming soon