2020, a year in which the housing market defied expectations. At 7.6%, annual price growth across the UK is at its strongest since the summer of 2016. Over 129,000 homes are believed to have changed hands in December, 32% more than in December 2019 with sales for the year projected to be just 11% lower than in 2019 (HMRC). The mortgage market has recovered. Approvals in 2020 were up 3.7% on the previous year (Bank of England) and with an estimated 9–10% more sales agreed in 2020 than in 2019, the start of 2021 has been positive.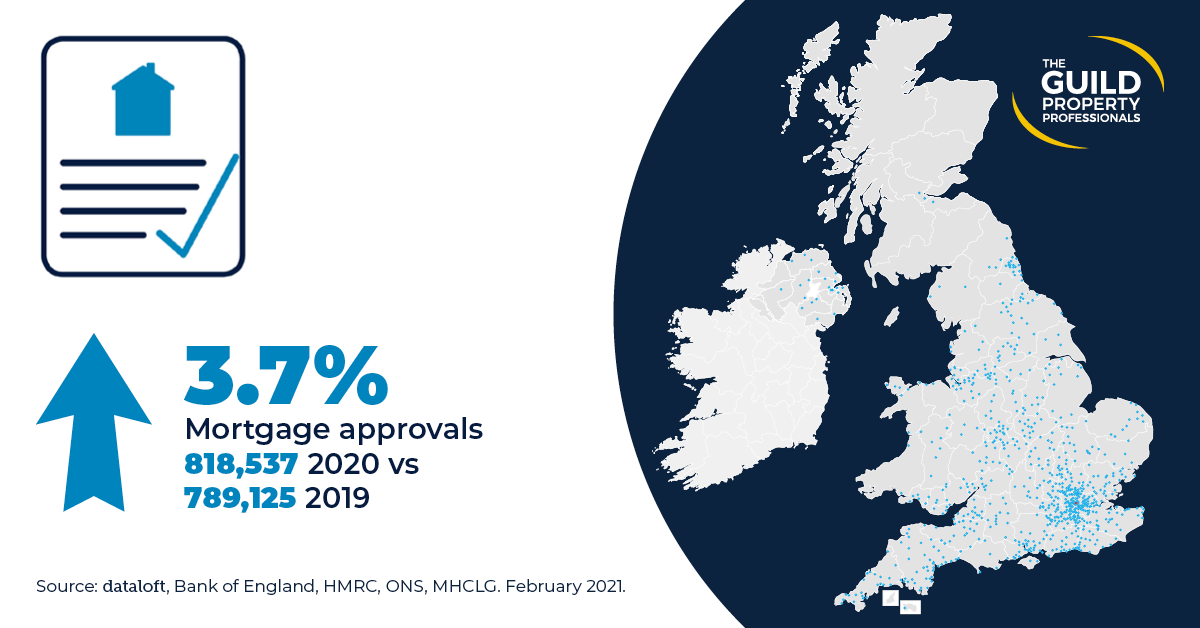 Supply-demand imbalance
The third national lockdown has exacerbated the supply demand imbalance evident across the housing market since the autumn. Rightmove reported its busiest ever start to a year, with demand up 12% and sales agreed in January up 9% year on year. However, new supply to the market has fallen by 12% and the number of homes for sale by 6% as new sellers remain cautious while restrictions remain (Zoopla).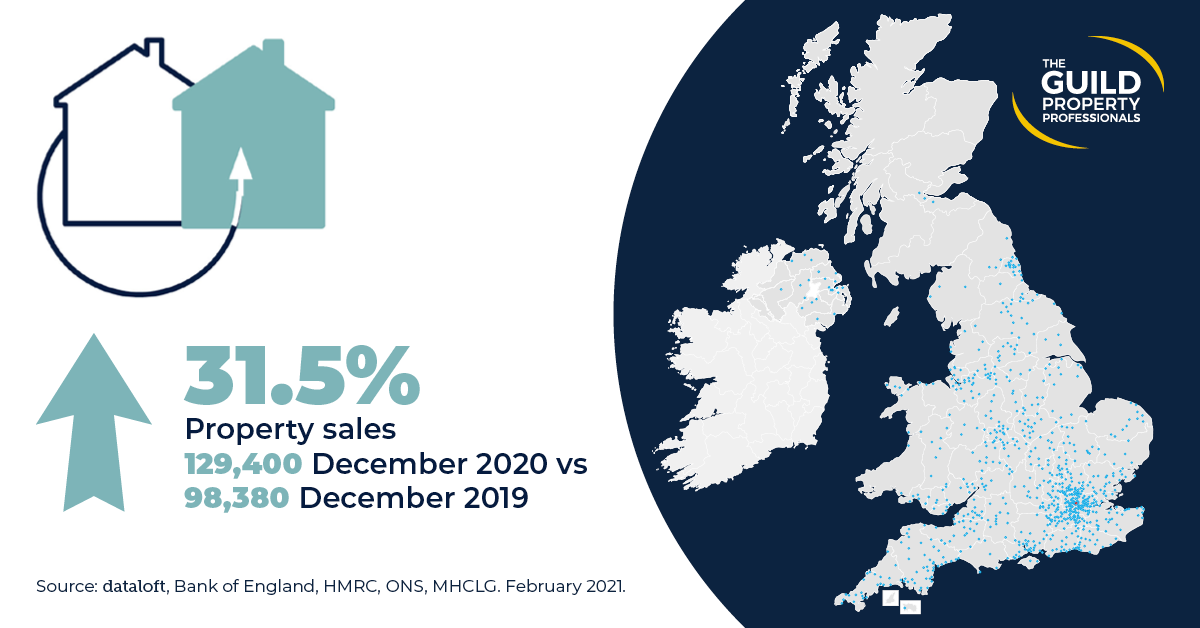 Economic backdrop
Activity in the market is set against a backdrop of continued economic and consumer uncertainty. The UK economy shrank by a record 9.9% over 2020, despite growth of 1.2% in December. Although consumer spending fell sharply in January as restrictions were tightened, the vaccination rollout is on target and there is some optimism that restrictions may start to ease in the near future. The Chancellor's Budget on 3 March will set the tone for the year ahead, the economy currently forecast to return to pre-pandemic levels during the final quarter of 2022 (OBR).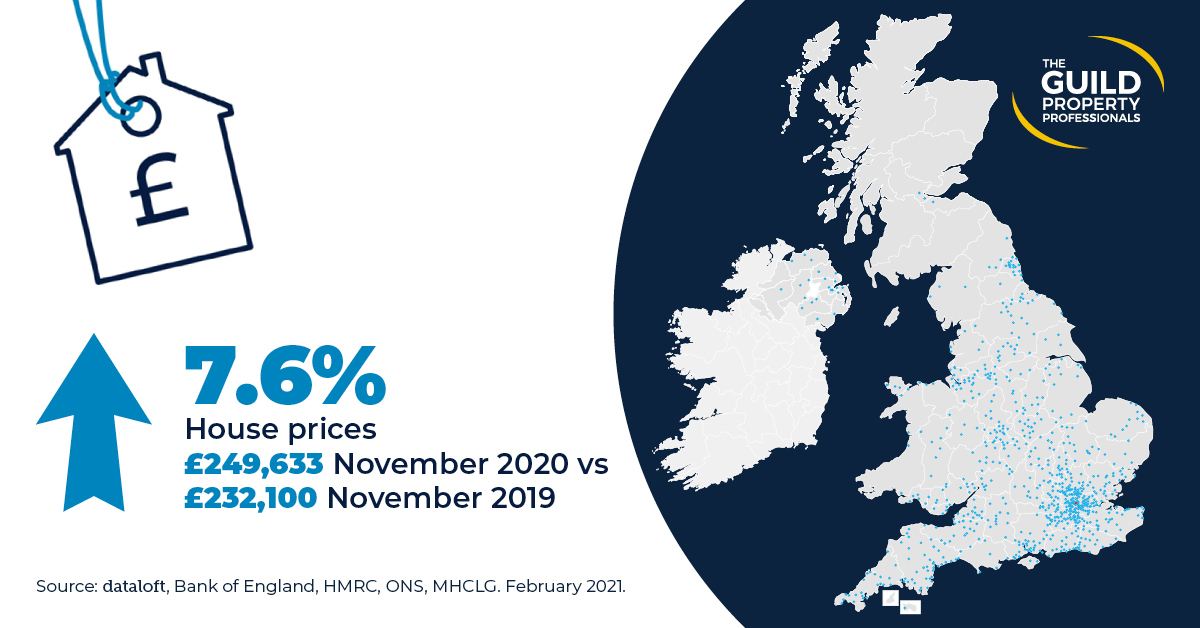 Rental market
Average rents across the UK rose by 1.4% in the year to December, on par with growth throughout the year. Agents in virtually all parts of the country envisage rents rising over the near term, London the notable exception as supply continues to considerably outweigh demand (RICS). As in the sales market, interest in rental property out of city centres has surged. However, the majority of renters move less than five miles between tenancies.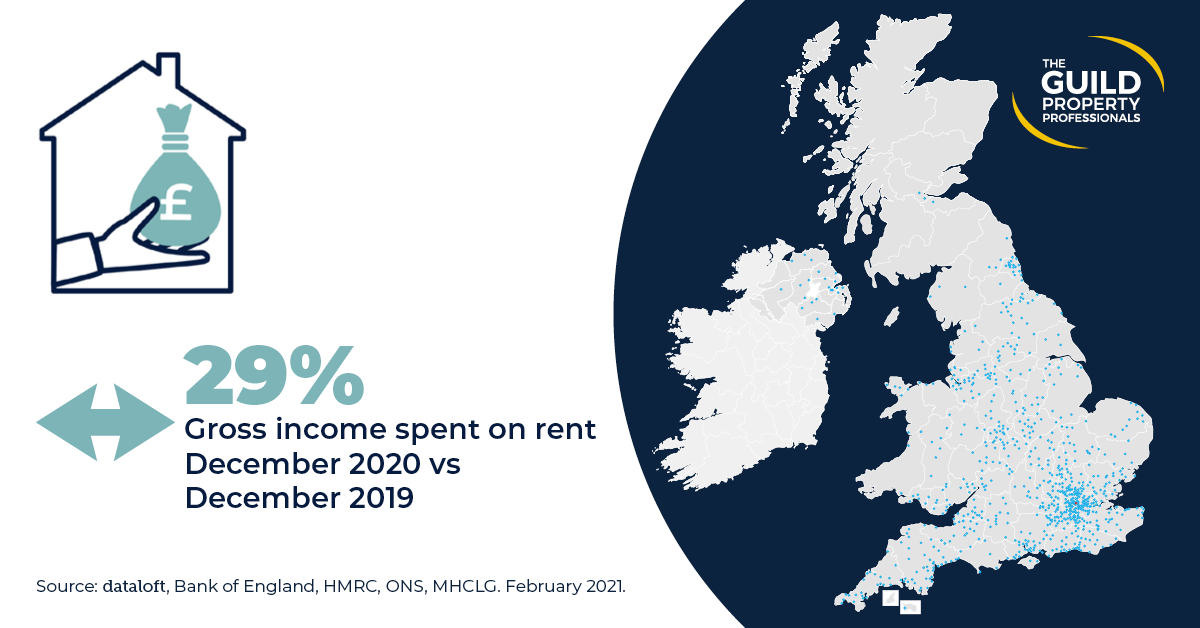 Regional Reports
Browse our Regional Market Reports:
● Market Report 2021 Spring East Midlands
● Market Report 2021 Spring Essex, Norfolk and Suffolk (East)
● Market Report 2021 Spring Hertfordshire, Bedfordshire and Cambridgeshire (East)
● Market Report 2021 Spring London
● Market Report 2021 Spring North East and Yorkshire
● Market Report 2021 Spring North West and North Wales
● Market Report 2021 Spring Northern Ireland
● Market Report 2021 Spring Scotland
● Market Report 2021 Spring South East Home Counties - Kent and East Sussex
● Market Report 2021 Spring South West
● Market Report 2021 Spring Southern Home Counties - Surrey and West Sussex
● Market Report 2021 Spring Southern - Hampshire, Wiltshire, Dorset and Isle of Wight
● Market Report 2021 Spring Thames Valley, Berkshire, Oxfordshire and Buckinghamshire
● Market Report 2021 Spring West of England and South Wales