Saying that 2020 changed the way many companies do business is a massive understatement. Pivoting their strategies, businesses evolved and adapted to a new way of working with many people now working from home for the foreseeable future. With the adaption, we saw a surge of digital products and services to help businesses continue to work productively while employees worked remotely.
With a captive audience working from home and many people using digital platforms, it is easy to see why so many businesses have shifted their attention to digital marketing, Social Media, website optimisation and other online media. However, is there still a place for direct mail marketing in a world of remote working and virtual meetings? Head of Brand at The Guild of Property Professionals, Emilie Despois, says most definitely. "While digital channels are essential to an agent's marketing strategy, print and direct mail marketing is still very much alive and well and should be a part of their overall marketing plan. In fact, because people are on some form of digital platform all day, direct mail marketing is becoming even more relevant and potent than before. People are bombarded with electronic communication constantly and there is more competition in the digital marketing space than ever before. This proliferation of electronic communication could lead to a form of digital fatigue, and the message not breaking through the noise," adds Despois.
She continues that combined with digital elements as part of a cohesive marketing strategy, direct mail can be an effective method of reaching people. "The physical mailbox is a less saturated marketing space, and many people actually look forward to receiving mail through their door. Another benefit is that direct mail stays around longer, with the possibility of more people within the household seeing it. Digital and email marketing is very targeted, perhaps in some instances too targeted. A magazine through the door could be picked up and read by a few people within the household and could be the differentiator that gets the agent the listing. Recent research carried out by the Joint Industry of Committee for Mail revealed that since lockdown, the frequency of exposure of mail is a record breaking 4.5 interactions, with 56% of all items still in the home after 28 days," Despois comments. "An omnichannel approach to marketing will result in more people seeing the message and remembering your brand's name when it comes to the time to sell or buy a home. On average it takes around 12 engagements with a brand before someone uses them, so direct mail marketing is another touch point that will help agents build relationships and connections within their local market."
Despois provides some tips for putting together a successful Direct Mail Campaign:
Build your audience
There are several tools you can use to build a targeted audience. At The Guild, we offer a direct mail system which allows our Members to target households by location, house price, length of ownership, council tax band, household income and more. This allows you to define your customer profile and will help you develop the right message for the audience.
Create your message
Your message needs to be adapted to your chosen audience - it has to be relevant to them and generate some interest. The message is all the more important nowadays and the current situation should not be overlooked. At the Guild, we created messages during lockdown, which agents could adapt, offering households some help and support. Your message does not have to be always overtly sellsy, sometimes an offer of support goes a long way. Make sure that you keep your brand's tone of voice, whilst being mindful of the audience you are addressing. The same message can be used in your targeted digital advertising to re-enforce it and increase the chances of your customers remembering you when the time comes to move.
Grab people's attention with your designs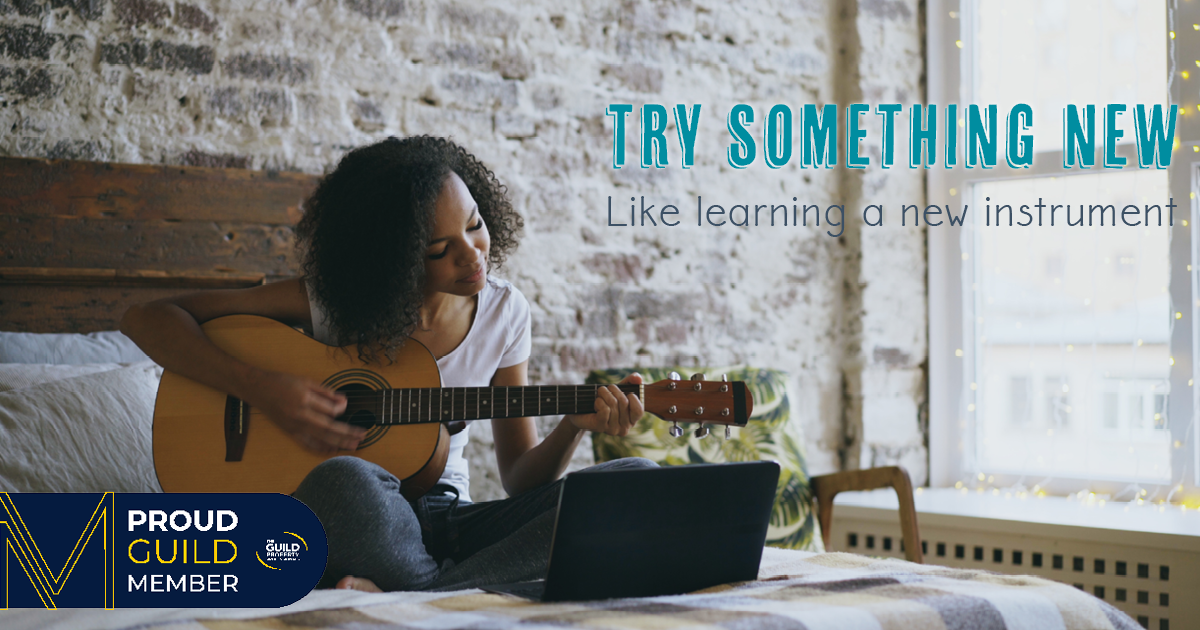 They can be funny, they can be beautiful, they can be impactful, but whatever design you choose, ensure that it generates the right emotion for your audience whilst staying on brand. Always use your brand's font, colours and logo where appropriate. Keeping consistency across all forms of marketing will help your customers remember and recognise you.
Don't forget your call to action
Make sure that you have a call to action. In the end, you are sending a direct mail to encourage people to contact you. You can track your direct mail by creating landing pages on your website for your campaign and tracking phone numbers.