You've found your ideal home, got the keys and moved in your belongings. Now the fun begins - decorating. But facing a blank canvas can be daunting. How do you know what colours to choose, which furniture to buy or how to lay everything out in a way that looks stylish yet functional?
Unless you're lucky enough to be moving into a home that's decorated exactly to your taste, chances are you'll have some work to do before you settle in. These tips will help to get you started and moving in the right direction towards a beautiful and comfortable home.
Get installations sorted
Before you spend time and money on decorating each room, consider whether you want anything removed or installed that could change the layout of the space. For example, maybe you're considering updating the kitchen to a more modern design to boost the value of the property, or perhaps you're thinking of changing out an open fire to an electric alternative.
These types of changes are valuable to your way of living and the property value, but they can also be messy in the short-term and without proper planning could leave you living among a building site. If these changes are renovations you want to make, do them before you start investing your weekends into painting and wallpapering.
Don't be put off by neutrals
If you're not set on a particular colour scheme, sticking to neutrals is a great way to ensure that everything looks cohesive and blends seamlessly without you feeling pressured to choose a colour combination you'll be stuck with for the foreseeable future.
White has a reputation for being bland and boring, but it depends on the shade you choose. A warm white with yellow or pink undertones can still look inviting and cosy, while being neutral enough to pair with your soft furnishings. You can then add pops of colour into the room through curtains, cushions and rugs that are easier to switch out if you change your mind or want to refresh the room.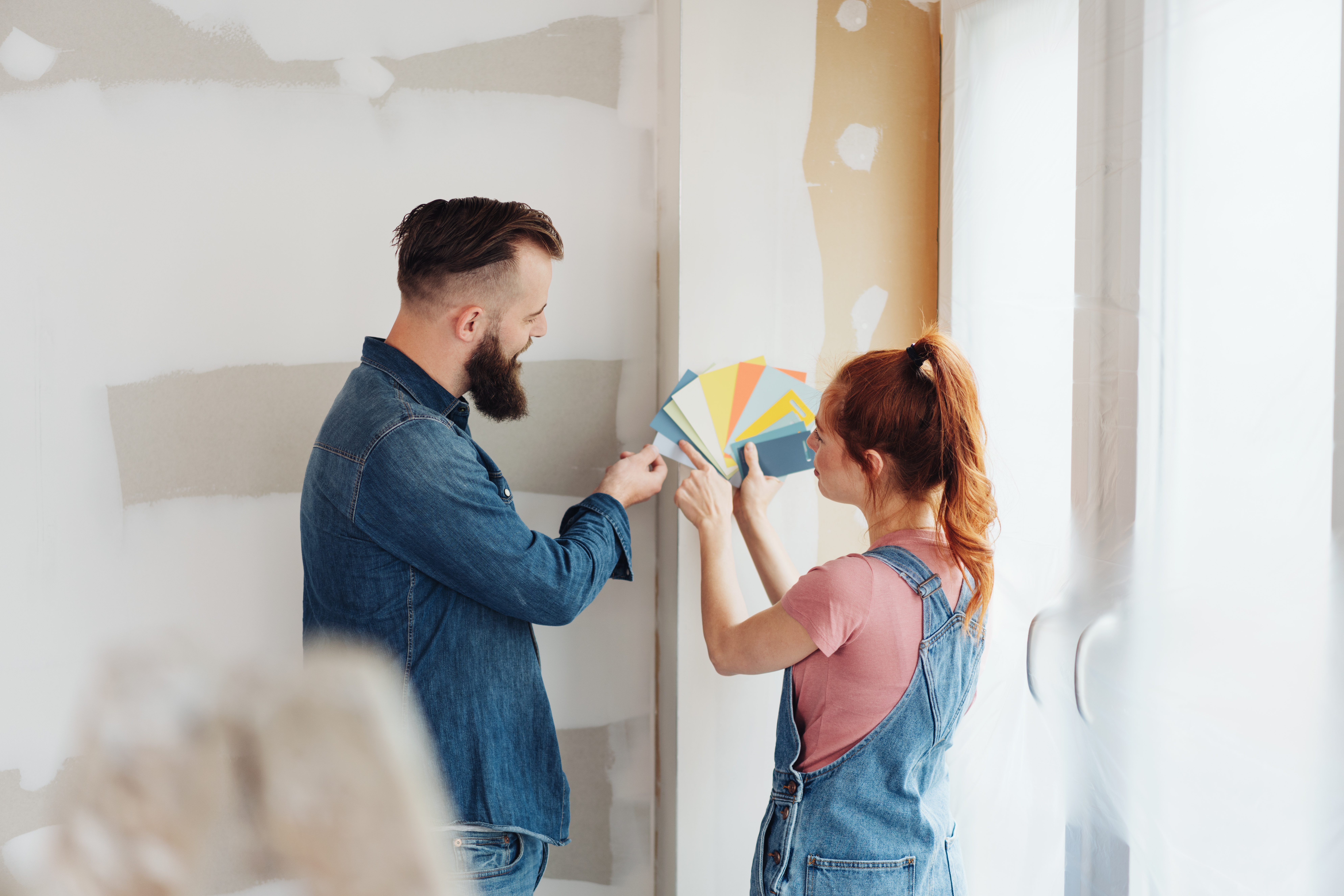 Be practical
You may well have certain furniture items in mind or sumptuous fabrics and carpets, but bear in mind how practical these items will be in your home on a day-to-day basis. For example, a velvet sofa is guaranteed to look stunning in the living room but if you have young children or pets, it's likely to look drab and untidy within days unless you devote a lot of time to its upkeep.
Likewise, if you're someone who is incredibly busy and doesn't have the time to dedicate to maintaining your home, choosing textured surfaces or ornate furniture that's going to become a magnet for dust and grime will only add more tasks to your to-do list. Instead, think about the finishes and materials you choose and the style of your furniture to make cleaning easier and to ensure your home stays looking its best for longer.
Focus on a hero piece
Each room in your home should have a focal point that draws the eye and from which you can build the rest of the decor around. For example, you might have a fireplace in the living room, a beautiful quartz worktop in your kitchen or a striking wooden staircase in the hall. These features are what give your home character and they can serve as a great jumping off point when it comes to creating your interior design.
For instance, your staircase might be a dark wood which will inspire the type of console table you have in your entryway or the colour of the floors. Or maybe your bathroom is tiled in a particular pattern or rich colour which can then be used as the foundations for the style of mirrors and storage you choose for a luxurious finish, such as a freestanding bath or elegant fixtures. These main attractions can be used to evoke a certain era or design style, such as mid-century modern, boho or art deco, creating an overall look to your home that looks considered.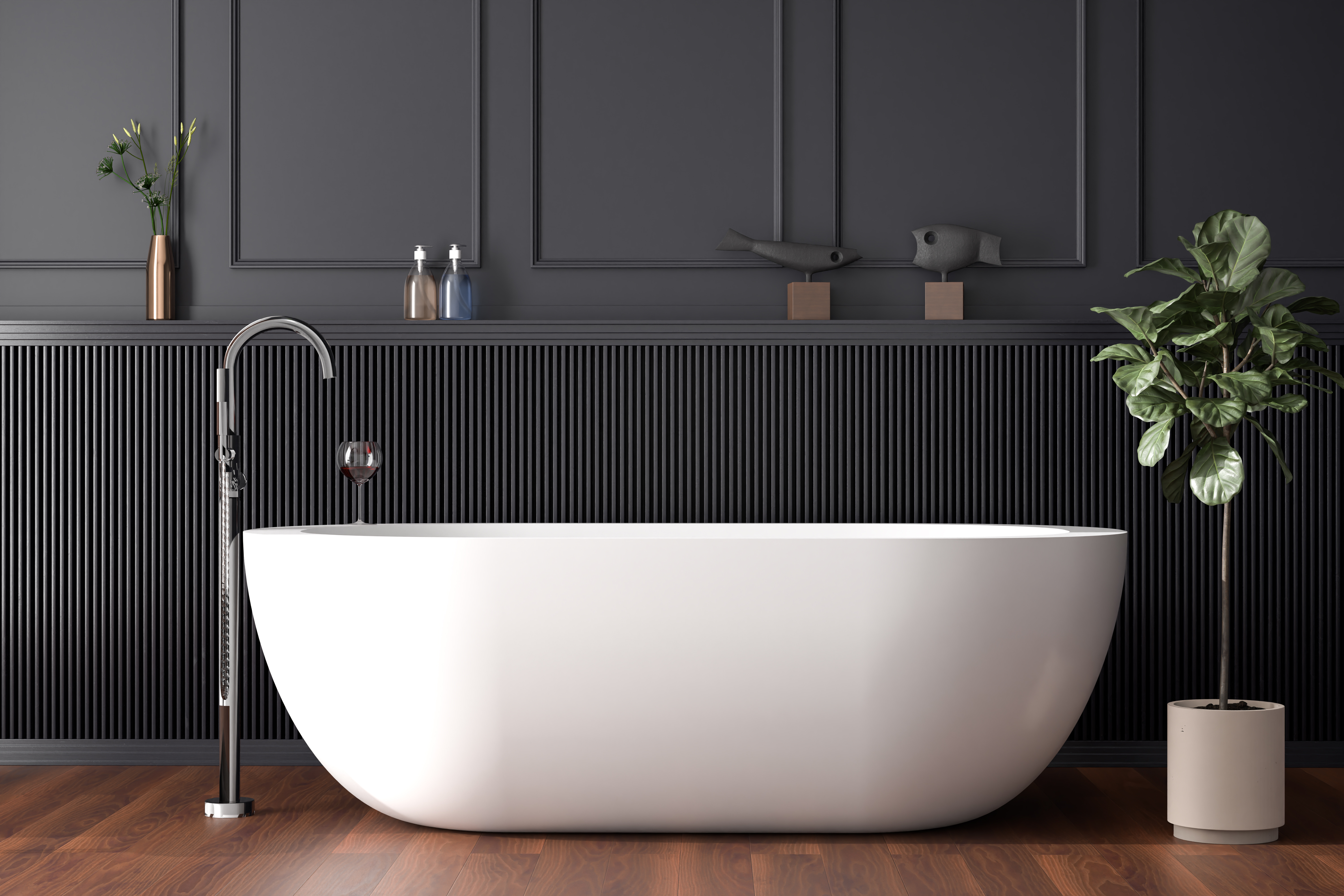 Plan for lighting
Lighting isn't something that should be an afterthought in the interior design process, as it has the potential to make or break a room. When you first move into a property, the lighting you choose should be a priority. Well-considered lighting can create a wonderful ambiance in your home and will add decorative touches to a space.
Instead of simply adding a light shade to the main light in the room and calling it a day, you may want to think about how you can create mood lighting for pockets of warmth and cosiness. For example, large pendant lights that hang low can be a great addition to dining rooms over the dinner table to create an intimate atmosphere, while a property with low ceilings may benefit more from wall lights and floor lamps over hanging styles. Lighting can either be used as a subtle feature that blends into the background, or you can choose a statement piece that adds drama and style to the room.
The key creative steps
There's nothing more exciting than being handed the keys to your new home and the opportunities it creates for making it your own. But with so many design styles to choose from, it's fair to say that decision-making can be a challenge and overwhelming. The key is to focus on the foundational pieces and add little touches as you go, such as focusing on cabinetry, flooring and lights which suit the property. From there, you can be more creative with furnishings and colour without it looking garish or uncoordinated.
Contact Us
Are you thinking of buying or selling this New Year? Get in touch with your local Guild Member today.