There are few designs more homely and comforting than the farmhouse kitchen. Designed with socialising in mind, this sought-after style provides the space needed to create hearty meals whilst mingling with friends and family. If you're looking to bring some classic country charm into your home, here are a few tips to get you started.
Keep it light
Farmhouse kitchens are typically bright, airy spaces, so light shades are the way to go. Think warm creams, baby blues and soft sages, but if you're looking for a more contemporary touch, try a muted grey.
As painted cabinets are one of the most style-defining and visually dominant elements of farmhouse kitchens, this is the best place to start when building your colour scheme. Don't be afraid to play around with accent colours either – this can give your space extra dimension, and inject a sense of personality to make it truly your own.
Wood is the way to go
For an authentic farmhouse feel, wooden countertops are a must have. Natural and timeless, they can easily be coordinated with the colour scheme of your choice – for a lighter touch try oak or beech, and for something a little darker opt for walnut or cherry. If the maintenance of entirely wooden surfaces isn't practical for your home, consider adding a wooden butcher's block or island to your kitchen instead; just as traditional and visually appealing, but a little less upkeep required.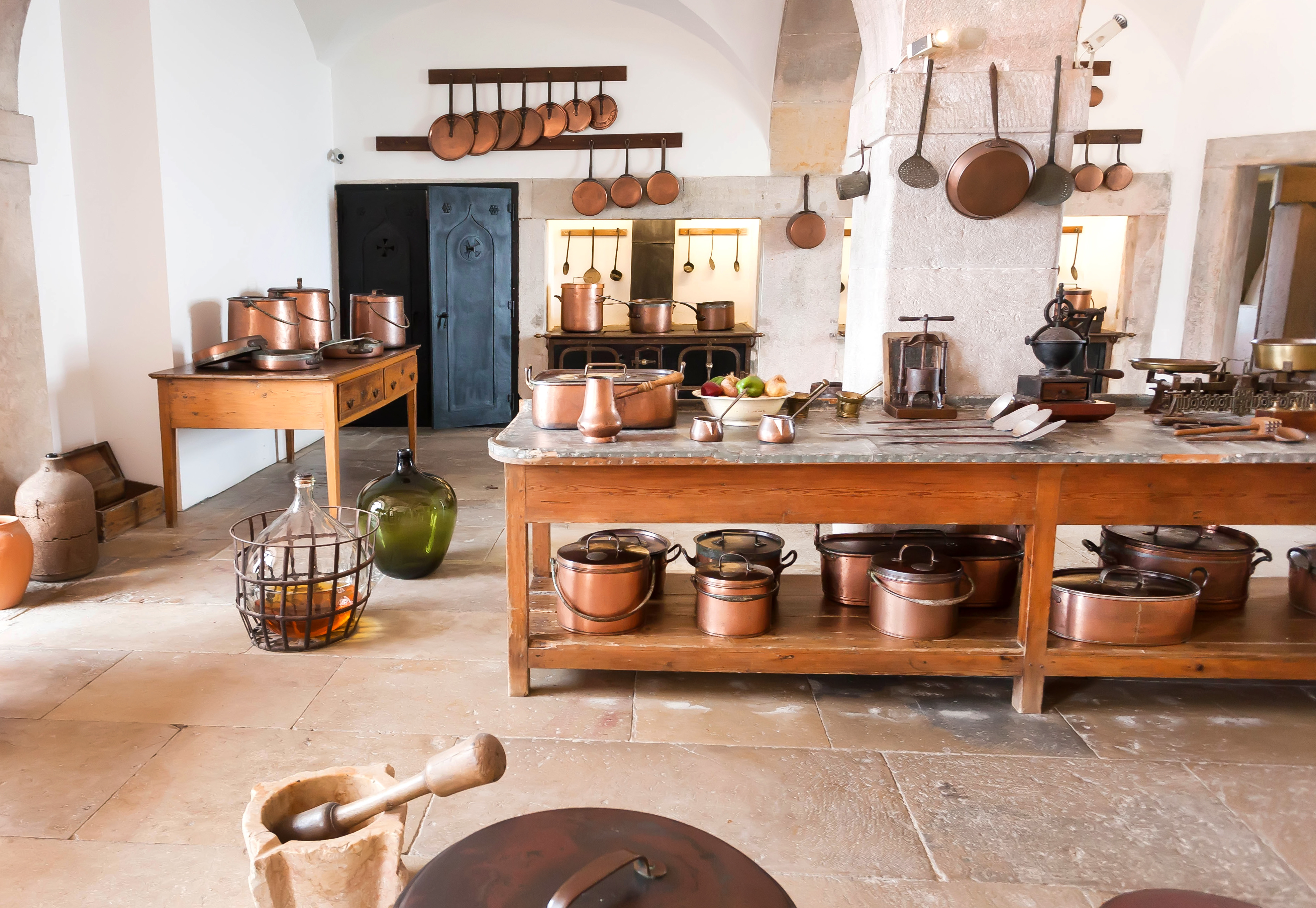 Texture is key
Putting some thought into the textiles you use can help to create the warm, inviting space a farmhouse kitchen should be. A simple low pile rug can add some fuss-free comfort to a tiled floor, and a curtain frontage beneath a sink rather than cabinet doors is a lovely country-style touch.
If coordination is your goal, try opting for a single pattern throughout – matching window coverings with cushion covers and even tea towels can help to tie a room together. However, mismatched patterns can be equally as eye catching, for a more relaxed spin on the style.
Embrace the clutter
Where other kitchen styles may look to hide away utensils and cookware, a farmhouse kitchen embraces a sense of organised clutter. Opting for open shelves in the place of some cupboards is a great way to store and proudly display items , including crockery, utensils and ingredients. For kitchens with ample wall space, consider adding a hanging rack to highlight your most eye catching pieces – contrasting copper pans with brass utensils are a staple of farmhouse style.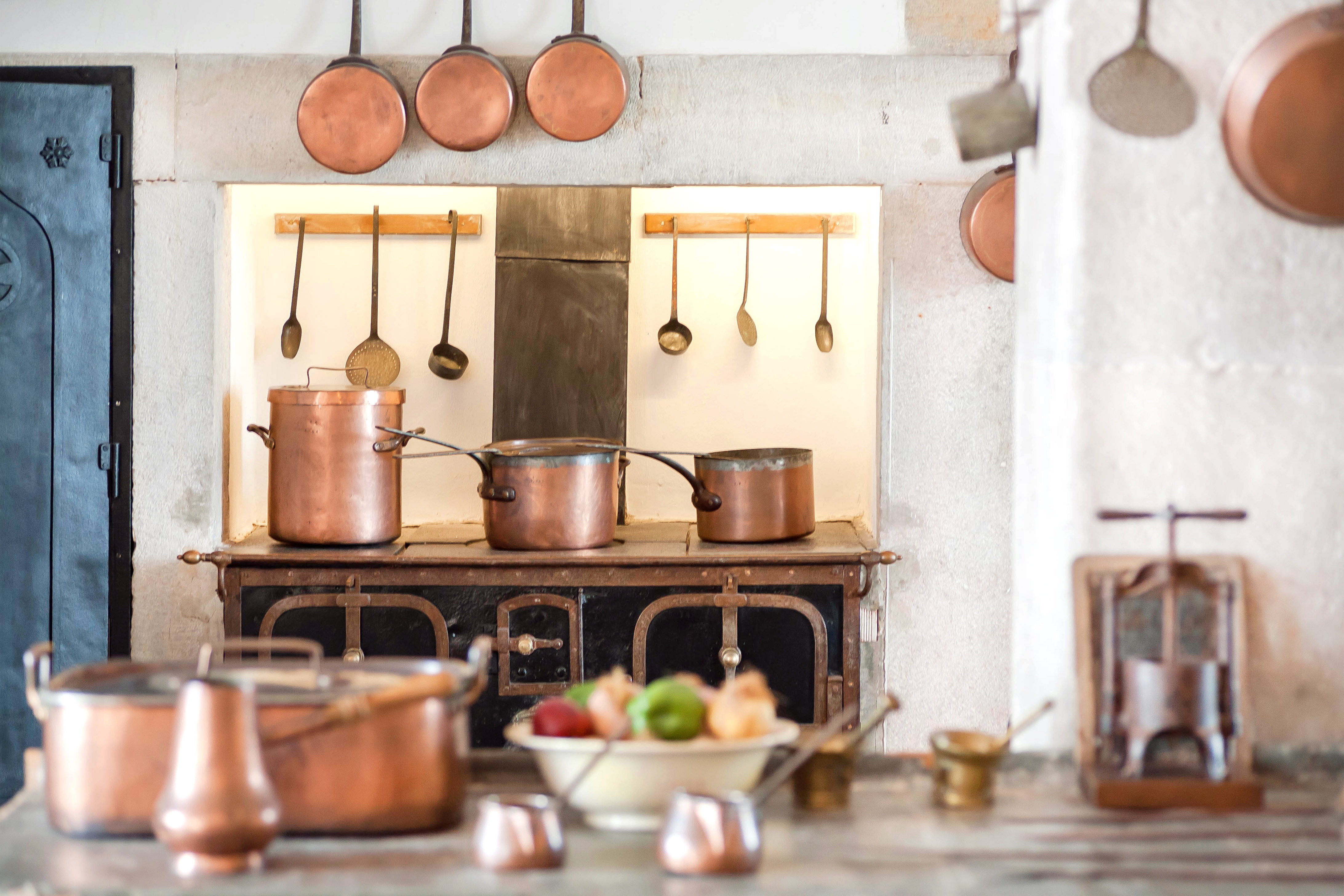 Make yourself comfortable
A farmhouse kitchen is about more than just cooking; it should also be a place for socialising. In addition to a dining table, a less formal set up such as a cushioned breakfast nook gives you a space for a casual family breakfast, or a place to catch up with friends. For something simpler, a set of stools placed at the kitchen island is a great way to make the room a social hub without sacrificing any space.
The must-haves
The main focal point of any farmhouse kitchen should be the classic range cooker, or aga. These cookers are available in a variety of sizes, with 6-8 hobs and double or triple doors being the optimal choice for this type of kitchen. Coming in a variety of colours too, you'll be sure to find one that suits your needs.
When it comes down to the kitchen sink there's one clear choice, and that's ceramic. Deep and hardwearing with an exposed apron front, a farmhouse sink is the perfect practical addition to your space.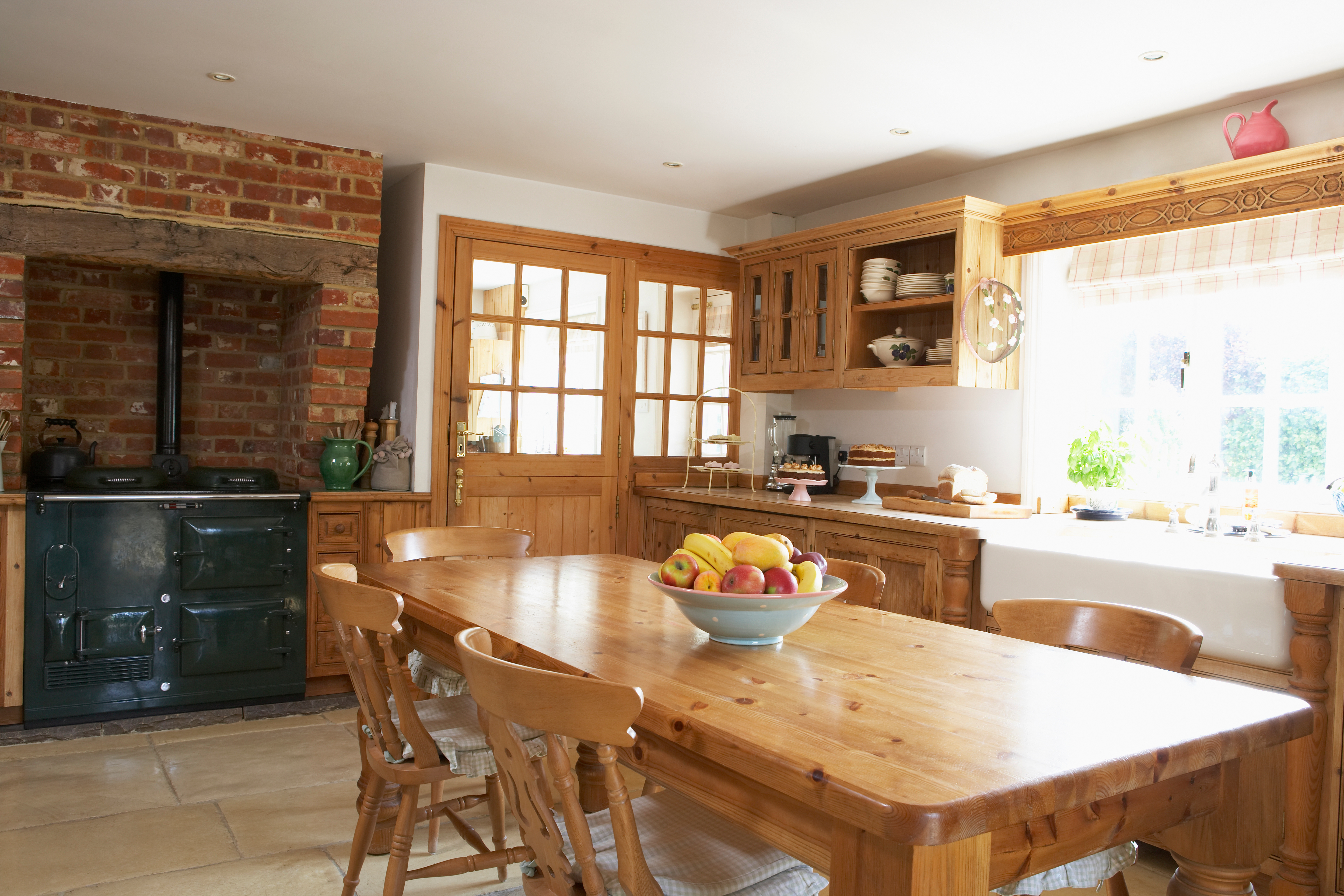 Contact Us
If you are thinking of buying or selling to to find your dream farmhous kitchen in a new home. Get in touch with your local Guild Member today.